To lean more about latest technology and solution to compressed air treatment and liquid nitrogen generation,please contact us immediately.
Compressed Air & Gas Purification
large capacity water-cooled refrigeration compressed air dryer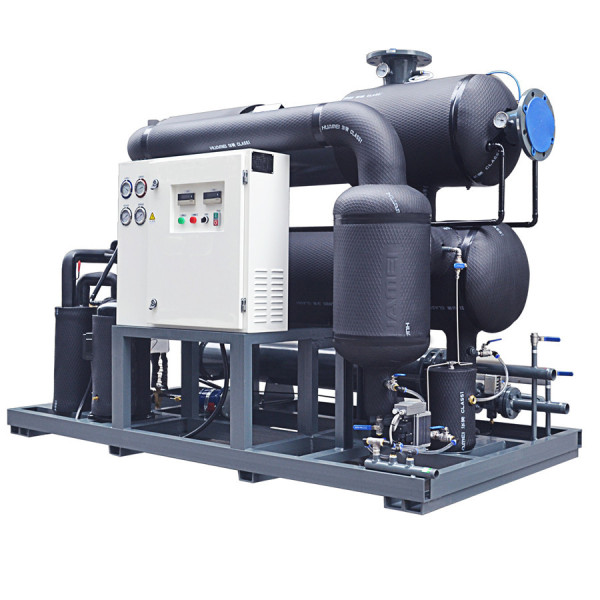 Categories
Water-cooled Refrigerated Dryer
Brand
Scala Compressed Air Treatment Manufacturer
Model
SF3000W
Inlet capacity
300 m3/min
Max operating pressure
10barg
Pressure drop
0.2barg
Max. inlet temperature
65℃
Pressure dew point
+3 ℃
Refrigerant type
R407C
Power supply
380V-3PH-50Hz
Total power
36.8 Kw
Air inlet/outlet connection
DN250
Cooling water connection
DN65
Cooling water flow
36m3/h
Dimensions
3500x1700x2500mm
Weight
1500kg
Unit Price

US $ 370

/

piece

FOB port
Shanghai
Terms of Payment
T/T
Update Time
March 28,2023
Product Overview
D Series Aluminum Plate Refrigerated Air Dryer
D Series refrigeration compressed air dryers utilize the principle of refrigeration to cool compressed air and discharge condensate water to dry compressed air. The pressure dew point can be as low as +5℃.
A high efficient aluminum plate heat exchanger that integrated with pre-cooler,evaporator and separator to remove water from compressed air. Industrial grade refrigerant compressor with less power consumption.
Intelligent controller with dew point indication and alarm function.
Stable pressure dew point
High Reliability-

Industrial grade refrigerant compressor. Advanced pipeline design with fewer components and soldering points to reduce the risk of refrigerant leakage.
High Efficiency-
All-in-one aluminum plate heat exchanger with low inlet/ outlet temperature difference.Electrical timed drain to ensure discharge of condensate drain.
Eco-friendly-
R134a and R410A refrigerant with cold energy recovery.
Intelligent control
-With dew point display and fault alarm function.
Industrial grade refrigerant compressor from Danfoss with R134A refrigerant
3-in-1 Aluminum plate heat exchanger with low inlet/outlet
Aluminum fin type condenser with quality fan motor
Simple structure with fewer welding points to reduce refrigerant leakage
Simple on/off switch with dew point indicator or digital controller on larger models
high efficient

aluminum plate type condenser
Note: power supply: 230v-1ph-50hz,
Standard working pressure: 7 barg;

Allowed working pressure: 4.- 13 barg (Optional 16barg)
Standard inlet temperature:40℃;
Allowable inlet temperature:1- 55℃
Standard ambient temperature: 30℃;

Allowed ambient temperature: 1-45℃
Compressed air purification equipment
Just fill-in the form below and we will response to you within 24 hours.